Tools, Tips & Techniques
for Involving people in your Service
1 February 2021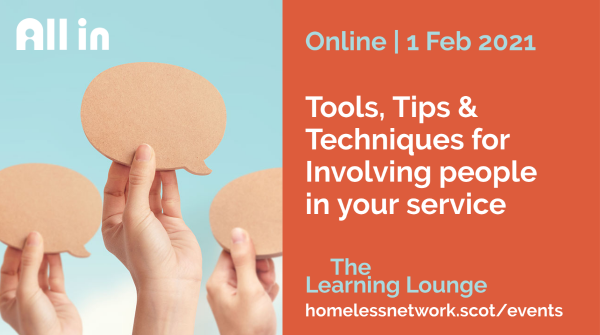 Often individuals and communities who don't have a common, collective voice and are typically underrepresented in consultation and the development of services. This introductory course is for both front line practitioners and those in strategic roles. This interactive course looks in depth at:
Considerations when engaging those who use our services
Practical tools for engagement
Common barriers to engagement and how to avoid them
How to create a safe and friendly environment for participation
Creating equal relationships and boundaries
When and where? Opportunities for engagement are everywhere,
how to find them
1 February 2021 | 1 x 3 hour session | Online | 10am – 1pm
HNS Member £60* / Non Member £78*
*Includes VAT
---
Closer to Home: a place-based approach to preventing homelessness
15 February 2021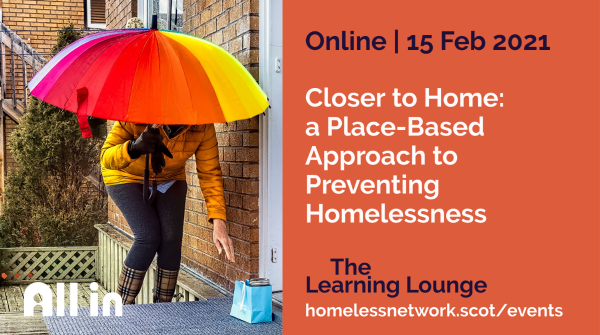 There is already a network of services and systems for people who live and work with homelessness after it has happened. But this is often too late and sometimes too slow. All homelessness starts in a community, so a place-based approach to preventing it happening in the first place is key. The course will connect the causes and drivers of homelessness with the local knowledge and services that can provide an early warning approach using a simple 2-point technique.
This course is designed for community planning partnerships, community councils, and the wealth of community-based services, groups and networks. It is also for housing and homelessness organisations who are taking a place-based approach to their work
15 February 2021 | 1 x 3 hour session | Online | 10am – 1pm
HNS Member £78* / Non Member £96*
*Includes VAT
---
Participation in Procurement
(for local authority staff)
22 & 24 February 2021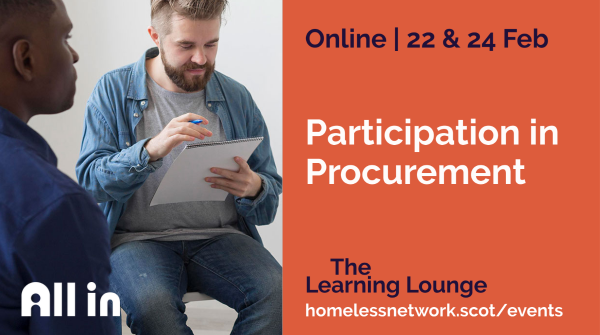 This is for public sector commissioning teams and other funders who want to involve lived experience in the service commissioning process. This session will use a solution-focused approach to:
Explain about local needs, aspirations and assets
Clarify where and how to begin when involving lived experience in procurement
Explore the benefits and impact of involving lived experience
Understand what works and what doesn't – from people with lived experience
22 & 24 February 2021 | 2 X 3 hour session | Online | 10am – 1pm
HNS Member £78* / Non Member £96*
*Includes VAT