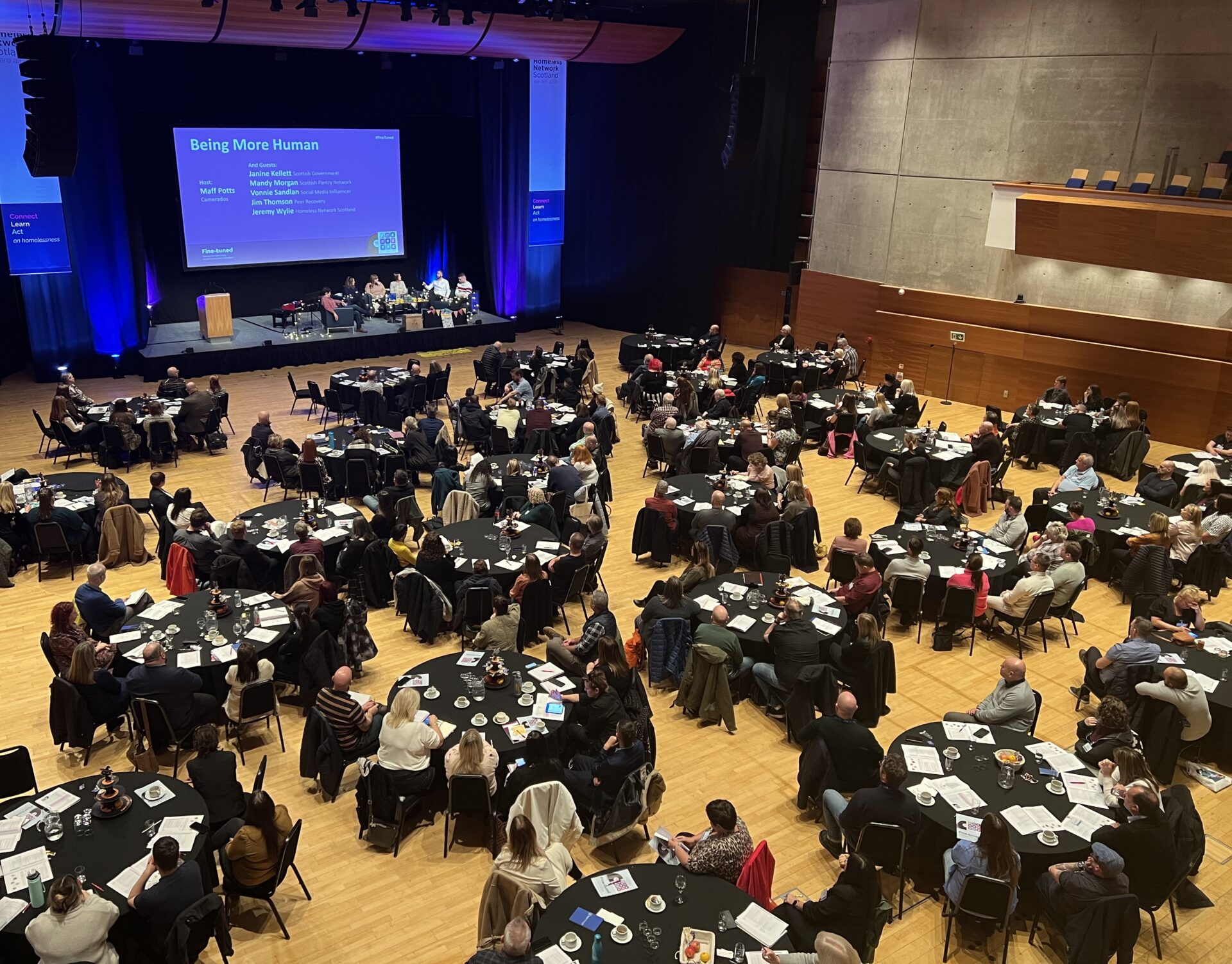 Hundreds of delegates connected at Scotland's annual homelessness conference to share and discuss ideas on how to reverse rising homelessness – from being braver and more human together to making real the solutions we know will work.
Fine Tuned: striking the right chord on homelessness was held in the same week as the scale of the problems the sector faces were laid bare by Edinburgh's declaration of a housing emergency.
But the mood in Perth Concert Hall was one of positivity and collaboration in the face of adversity – with the urgent need to build more homes, mitigate Westminster immigration policy, support cash-strapped local authorities and turn progressive Scottish legislation into action the key takeaways.
Frontline workers, policy experts, local authority chiefs and people with experience of homelessness heard from event sponsor Wheatley Group, Perth & Kinross Council – who are achieving groundbreaking results on homelessness – and Housing Minister Paul McLennan.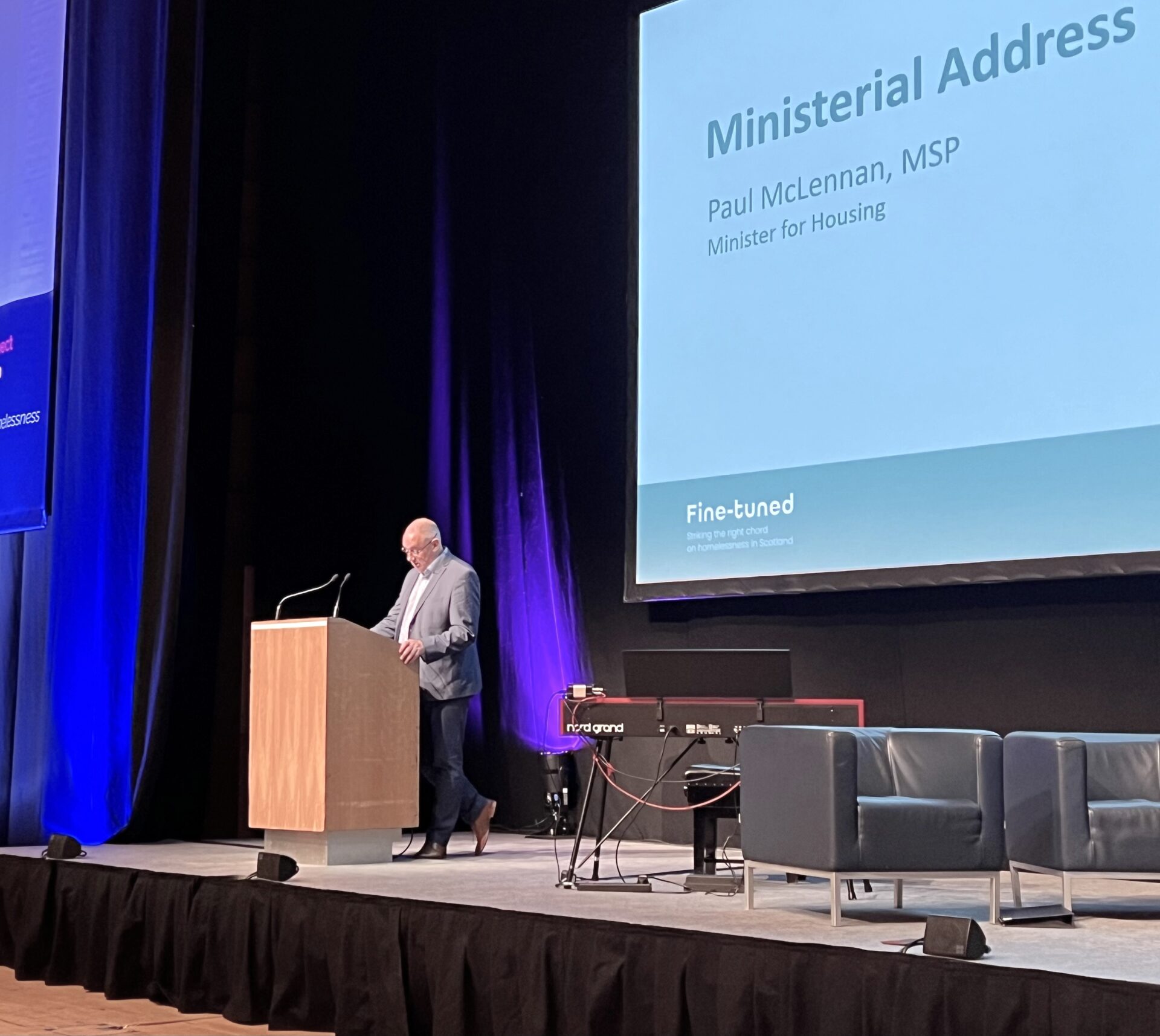 Housing Minister Paul McLennan
More homes and more money
In his keynote address the minister emphasised the Scottish Government's priority to secure new investment in housing, reduce numbers in temporary accommodation, address rural challenges, the importance of the upcoming prevention duties – and the sector's need for more money.
Taking questions from the floor on the new Ministerial Oversight Group on homelessness, he was pressed on the need for a joined-up approach to homelessness through the new National Care Service and the housing and budget pressures local authorities face.
In keeping with the event's musical theme, Homeless Network Scotland chief executive Maggie Brünjes boiled down the five 'key changes' we need to take to combat homelessness: build more homes, reduce poverty and inequality, challenge UK Government policy, modernise homeless services and ensure a No Wrong Door approach. With the conference supporting her calls for a route-map to sequence, cost, target and time each of the actions in the Ending Homelessness Together Plan.
Humanity, bravery, music – and biscuits
Buzzing sofa sessions posed questions on how we can be more human and braver in all we do, with wide-ranging conversations covering the personal and the political, organisational and system angles – fuelled by a "favourite biscuit" icebreaker from host Maff Potts.
Our sofa panel considered the vulnerability of being human and the power of deep connection, and the hall was asked to hold a person facing homelessness in their thoughts as Maff played Nina Simone's I Wish I Knew How it Would Feel to be Free on the piano – a profound shared moment.
After lunch, the session on bravery focused on changing systems by making services more joined-up and person-centred, pushing back on hostile UK Government immigration policy, continuing to bang the same drum on homelessness, and even turning up for work each day despite the challenges.
What's working to help hardest hit
Humanity and bravery were core to breakout sessions that delved into the many efforts underway across the country to support people facing some of the hardest adversity.
Cyrenians and Scottish Women's Aid outlined the progress of the Everyone's WISH initiative, which harnesses the resources of the private sector to fund homes for women who have experienced domestic abuse – the largest cause of women's homelessness in Scotland.
The Fair Way Scotland session heard from Heriot-Watt's I-SPHERE institute about the first-year impact and future priorities of the partnership, which aims to prevent homelessness and destitution ​among people denied access to state support because of their immigration status.
A workshop on Rapid Rehousing heard about the transformational success of Perth & Kinross Council in reducing the number of people in temporary accommodation through flipping, buybacks and a Housing First approach, as well as challenges including the cost-of-living crisis.
And CATH Perth set out their achievements in employing Growth Mindset theory to help people facing barriers including homelessness and mental health through their Positive Pathways programme.
Brilliant exhibitors – and a rousing finale
Throughout the day delegates visited exhibitions in the hall's sunny foyer from Dogs Trust, Scottish Pantry Network, Cyrenians, Scottish Veterans Residences, MyBNK, Right There, Say WOMEN, Social Security Scotland and Grace Chocolates – who provided Halloween-themed table treats for the 250-strong crowd.
And a day of open-minded enquiry and inspiration ended fittingly with the energising sound of drum and pipe band Clanadonia bringing down the curtain.
Thank you to all the guests who made #FineTuned a success this year – including event sponsors Wheatley Group, Blue Triangle, Salvation Army, CATH Perth, Scottish Covid-19 Inquiry and Kingdom Housing Association.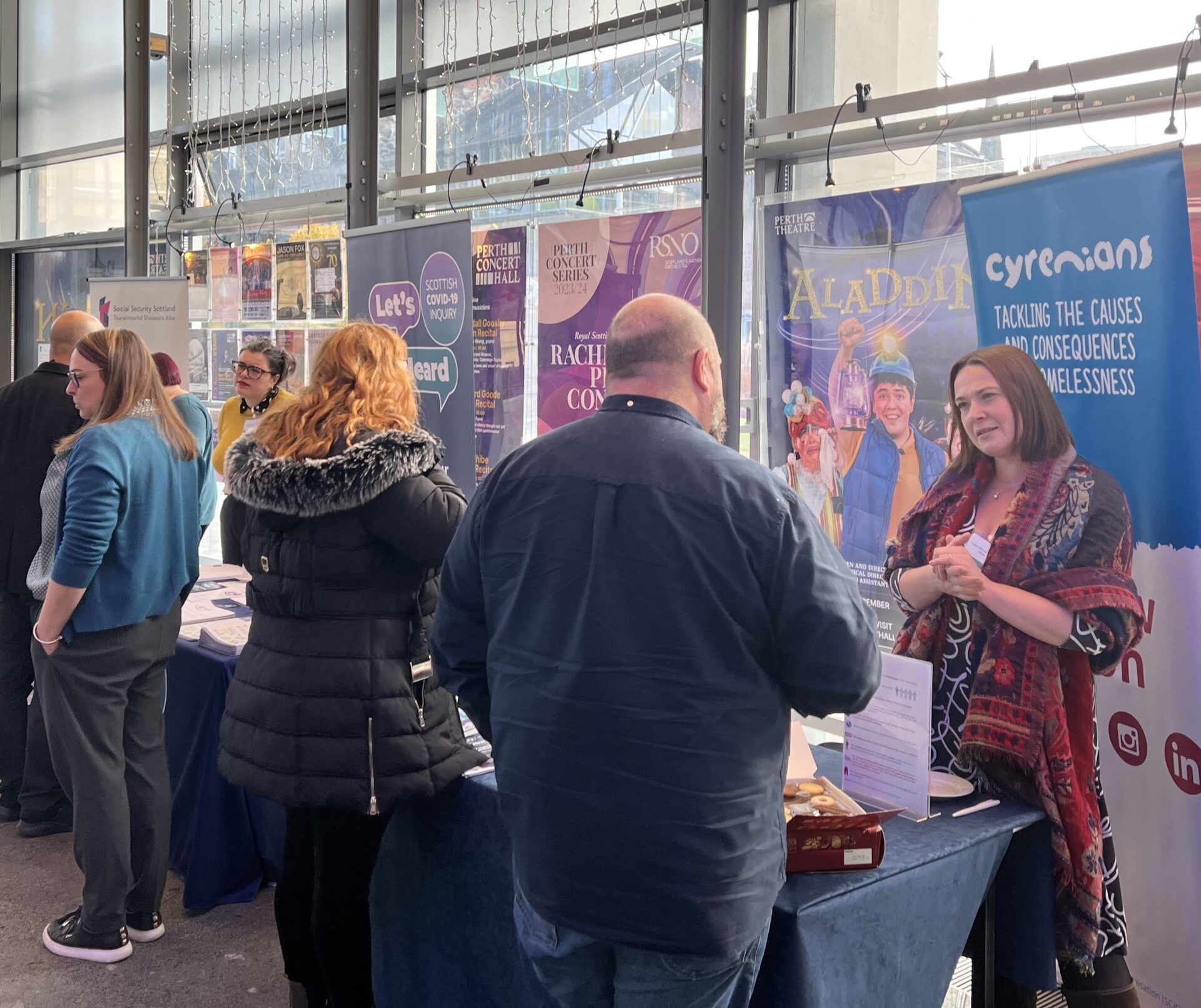 With thanks to all our brilliant exhibitors and sponsors