Since 2019 the All In For Change team has been using its wide-ranging expertise to help achieve objectives set out in the Scottish Government-COSLA Ending Homelessness Together Action Plan.
The team works with decision makers in local and national government to develop policy, and one of its biggest successes to date has been developing prevention duties proposed for public bodies, intended to be written into law in the forthcoming Housing Bill.
Key aims of the programme, facilitated by Homeless Network Scotland, Cyrenians and Scottish Community Development Centre, are bringing about co-ordinated working between different services and ensuring support services take a person-centred approach. The team also facilitates roadshows to take the temperature of how things are working around the country.
To mark Scottish Co-Production Network's #CoProWeekScot, Change Leads have been sharing their experiences of working as part of #AllInForChange. Below we hear from David Pentland, on the team since the very start, and new Change Lead Lisa.
David Pentland, Change Lead since 2019
When I joined the Change Team – an eclectic mix of lived experience, frontline workers and senior council staff – it was my first visit to the policy arena and the workings of Scottish Government.  
One of the first pieces of work after I joined in December 2019 was the Prevention Commission, a subgroup of the Change Team that fed directly into the Prevention Review Group facilitated by Claire and David from Homeless Network Scotland.  
They really broke down the ask of the Prevention Review Group well and supported us over many months to formulate a piece of ideal legislation that was reflective of what we thought needed to change in homelessness.
Although I couldn't make every meeting as I was working, I did however always feel completely up to date and ready to participate with the updates provided.
To then watch our concept of prevention duties, placing a legal duty on statutory/public bodies to "Ask and Act" regarding people's housing stability being drafted into legislation, was special. 
In the main Change Team, we did a lot of work with Beth from Heriot-Watt University's I-SPHERE institute, looking at research models and a lot of the work the institute had been commissioned to do historically. I really enjoyed drinking in the information, and I became really interested in policy and legislation. 
The Change Team has evolved since launch and was inhibited during the lockdown restrictions. It was however exciting to come out of lockdown and start work on the roadshows.
We planned and carried out roadshows in five areas of Scotland – it was exciting to see what the reality was on the ground and how central government initiatives had improved the lives of people experiencing homelessness.
Being part of the Change Team has been a worthwhile endeavour and I would like to think it has brought policy and legislation closer to the people experiencing homelessness.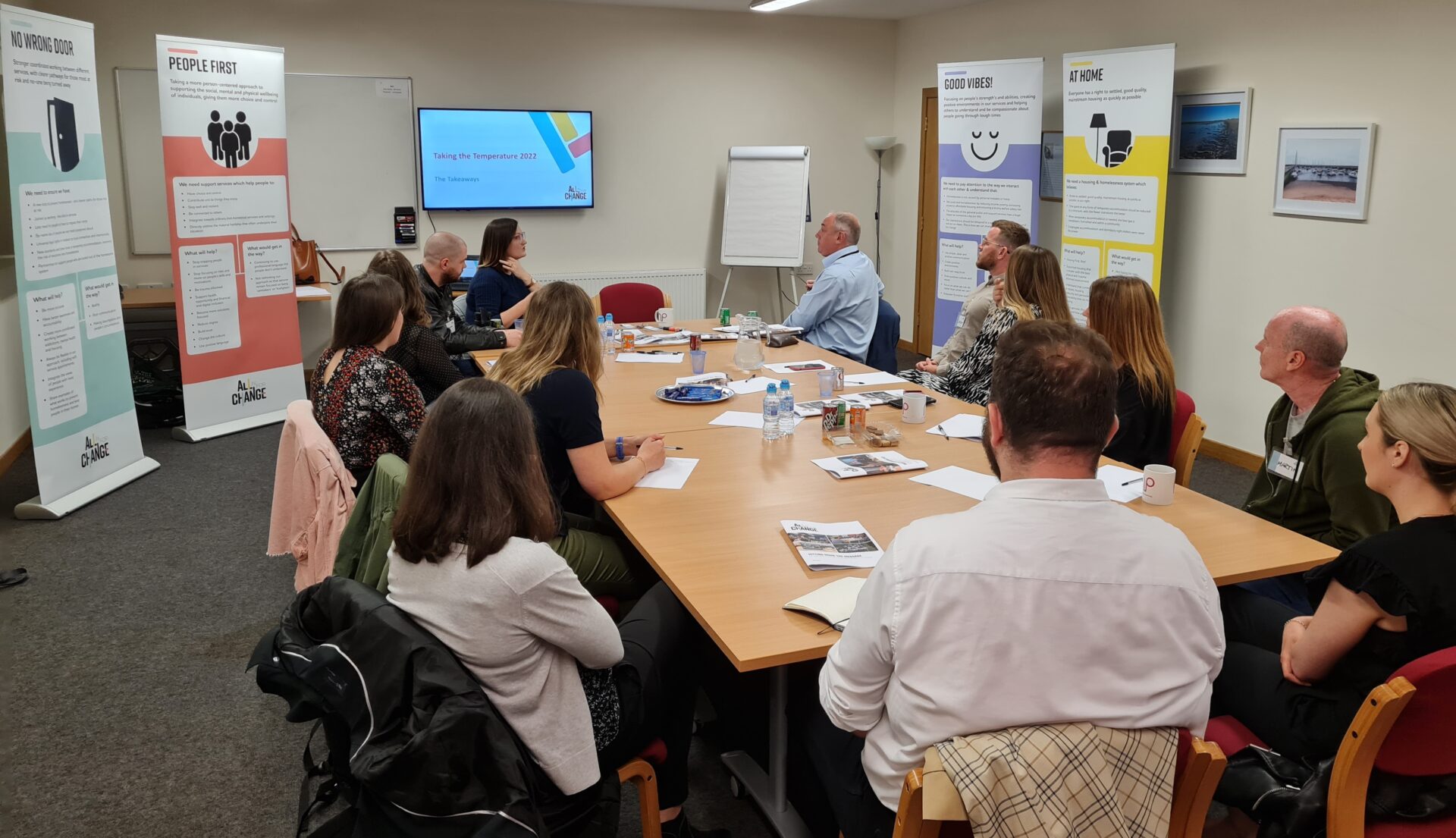 'It is liberating experiencing co-production'
Lisa, new Change Lead
To be part of All In For Change inspires me as it consists of a full circle of members, from those with professional status to people who have used services. Experiencing both sides brings passion to support evolving positive change.
It is liberating experiencing co-production as power in numbers creates a wider strength for our cause. Different personal experiences and outlooks on what is needed, once brainstormed and navigated, creates a need and ideas for change.
The value of co-production being brought to homelessness policy making is togetherness, a cohesive community, creating a positive support bubble – 'ALL IN FOR CHANGE'.
⏩The Change team's successes and future priorities are set out in this evaluation of the programme's first 3 years