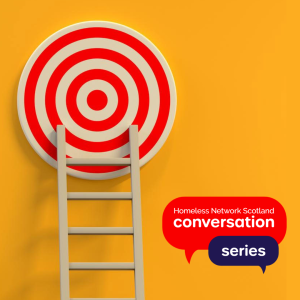 Homeless Network Scotland are launching a conversation series to cast some light on why good intentions are not enough when responding to big social challenges like poverty, social isolation and homelessness. And why, without the right knowledge and partnerships, good intentions can even cause harm.
The conversation series will launch at an online event on 6 December 2022 and continue through 2023, where we will be exploring questions such as:
Why is all 'charity' or voluntary action portrayed as positive, even those with low-bar standards?
What happens when we centre the motivations of 'givers' over the impact on people receiving?
Why do people use foodbanks, on-street soup kitchens or ask passers-by for money? What are the alternatives?
What do politicians do that helps – and hinders?
How can we help voluntary action to be pioneering and trailblazing, rather than resurrecting old practices?
We will look back at the history and the lessons we have learned together, reviewing evidence and experiences of what works and what matters. And we'll be inviting contributions from those closest to the challenge, with lived experience and expertise who will challenge us and encourage us in the right direction.
Don't miss the first of this series with conversation starters including from Sarah Johnson, ISPHERE at Heriot-Watt University. We are looking forward to seeing you at The Very Best of Intentions on 6 December 10-12. Book here.