On Tuesday 26 July, representatives from across Scottish Government joined Homeless Network Scotland to discover and define what a practical, joined up system response should look like for people facing severe and multiple disadvantage – people having a really tough time. We were excited to meet colleagues from across the policy areas of homelessness, mental health, drugs policy, community justice, child poverty and The Promise – and are grateful for their time.
My role at Homeless Network Scotland focuses on systemic and cultural changes needed to end homelessness in Scotland. I believe that the systems which have been built to support people, whether that being when they are at risk of homelessness or experiencing mental health problems, are outdated and preventing people from thriving.
Looking at the evidence, Hard Edges Scotland (2019) explains the multiple needs for support of people living in deprivation, and new research from Glasgow University shows that homelessness, addiction, involvement in the criminal justice system and psychosis are linked to early and avoidable deaths. We know that one of the failing factors of the current system is the lack of communication and collaboration across systems and sectors, causing people using services to have to navigate a complex maze and repeat their story multiple times. We need a shift towards a more person-led system, across all public and voluntary support services, where joined up working allows for individuals to get the support they need and lead a life they value.
In Scotland, we have a progressive policy environment, but we are increasingly noticing an 'implementation gap', a discrepancy between the intention of great policy and the actual impact of that policy on the ground.

No Wrong Door is a new programme of work looking to explore practical and local solutions in how support services can achieve better joined up working across sectors.
There are 7 keys to No Wrong Door:
Preventative: Prevent adversity. Focus on early intervention and anticipatory forms of support that shift the emphasis from crisis response towards a better quality of life for people.
Coordinated Care: Rapid access to services, as directed by the person and supported/coached by a lead professional with the responsibility to coordinate joined-up services. End of passive referrals.
Person-led: People/families have choice and control and act on what matters most to them. Where services respond to that direction and build from people's own strengths, capacities and successes.
Place-based: Valuing normality – home, community, relationships, recognition, love. Removing labels and centring ordinary activities in ordinary places – outside of services. Building local connections.
Trauma informed: Understanding the influence of past trauma on today's decisions and interactions. The importance of safe environments and conversations, with support for practitioners too.
Equality competent: Moving beyond labels and symptoms, prioritising people and the root causes of tough times – poverty, inequality, trauma, relationships.
Learning Loop: Exploratory, action learning with feedback loop. Knowing more and taking corresponding, resolving action. Collective leadership – policy, academic, practice and lived experience.
By facilitating this discussion, we wanted to come together and discover where – what areas or places – there might be a shared appetite and energy to adopt a No Wrong Door approach. We discussed that for No Wrong Door to be successful we would have to take a slice through the system, identifying key stakeholders from housing and homelessness, social care, health and criminal justice. No Wrong Door needs to be led by the people who are directly involved in the services we are looking to shift, this means those delivering and using services as well as those designing and funding.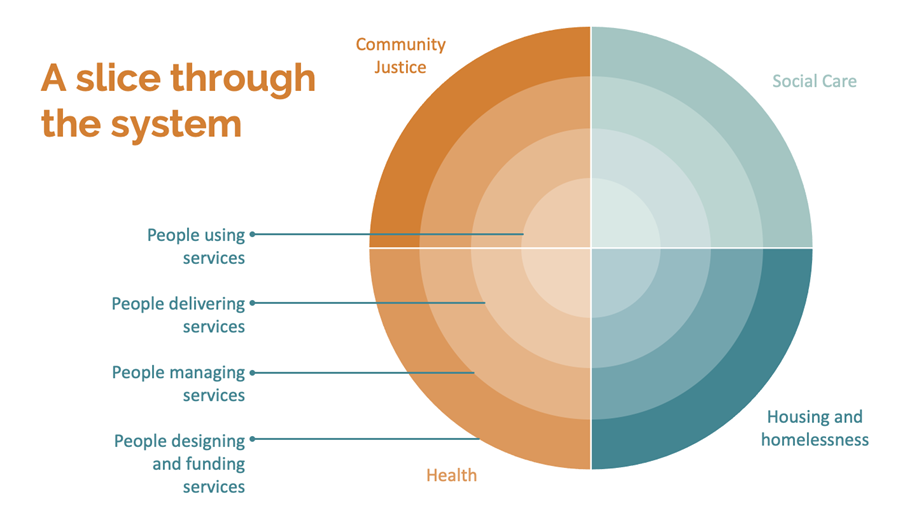 The values, capabilities and behaviours of people delivering services play a huge role in shifting a system. But, increased lack of resources and unhelpful bureaucracy has led to front line staff feeling deflated. By working with local communities No Wrong Door wants to connect people who understand what works well when providing support to those most at need, and what gets in the way. It wants to support them to work in collaboration to design solutions which work for everyone. To do this we are looking to work with two pilot areas and take people through a collaborative change process which includes building:
Awareness: People understand how, and have the permission to do things differently
Desire: People want, and feel able to do things differently
Knowledge: People know how to do things differently
Ability: People have the means and support needed to do things differently
It was clear that the Scottish Government colleagues get this – we know that many of the most progressive voices are already within the public sector and in pivotal roles. But we need help to create a learning system between the local and the national – and to work ambitiously outside of traditional sectors, silos, systems and services in a way that fully puts people first. Next steps will include pinning down our two test-of-change areas and having further conversations to decide what support is needed from Scottish Government to help create the conditions for No Wrong Door to succeed.
To find out more or to get involved – contact Ginny@homelessnetwork.scot.