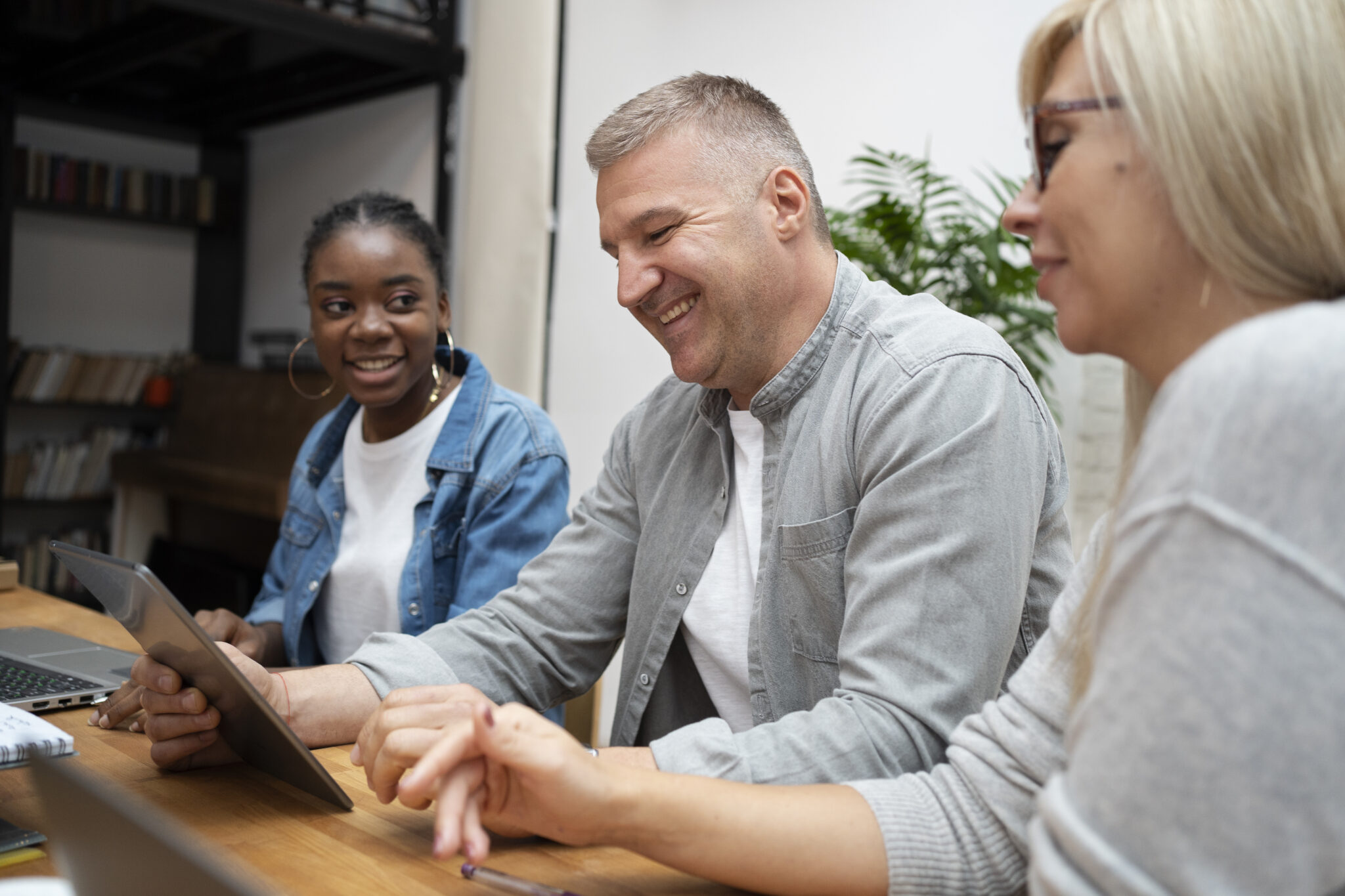 Act
Act on what works and what matters most.
We have 4 priorities.
1. Prioritise Prevention
What this means
Action to prevent homelessness should be early, proactive and targeted. Preventing homelessness is everyone's business: new duties to prevent homelessness across the wider public sector are expected with the Housing Bill in Autumn 2023. There should be 'no wrong door' to the advice and support that people want to access.
What we are doing
Providing briefings, events and training to help national and local partners to prevent homelessness earlier.

Raising awareness of the benefits of taking a place-based approach to preventing homelessness and supporting local partnerships to develop their policy and delivery.

Innovating with key partners on a "test-of-change" to learn how to deliver No Wrong Door for people at the sharpest end of Inequality.

Working through a national and local planning structure to inform and influence action to prevent homelessness.
The 5-Stage Typology of Homelessness Prevention
The 5-Stage Typology of Homelessness Prevention was developed by Heriot-Watt and Cardiff universities and defines prevention activity as follows:
universal preventing homelessness risk across the population as a whole, including poverty reduction, affordable housing, employment and welfare.


targeted early intervention focusing on people and places at the highest risk of homelessness – e.g. people leaving prison, young people leaving care, place based approaches.


crisis short-term response needed for people at imminent risk of homelessness.


emergency people at immediate, including same-day, risk of rooflessness or homelessness.


repeat working with people who have previously been homeless to prevent the experience being repeated.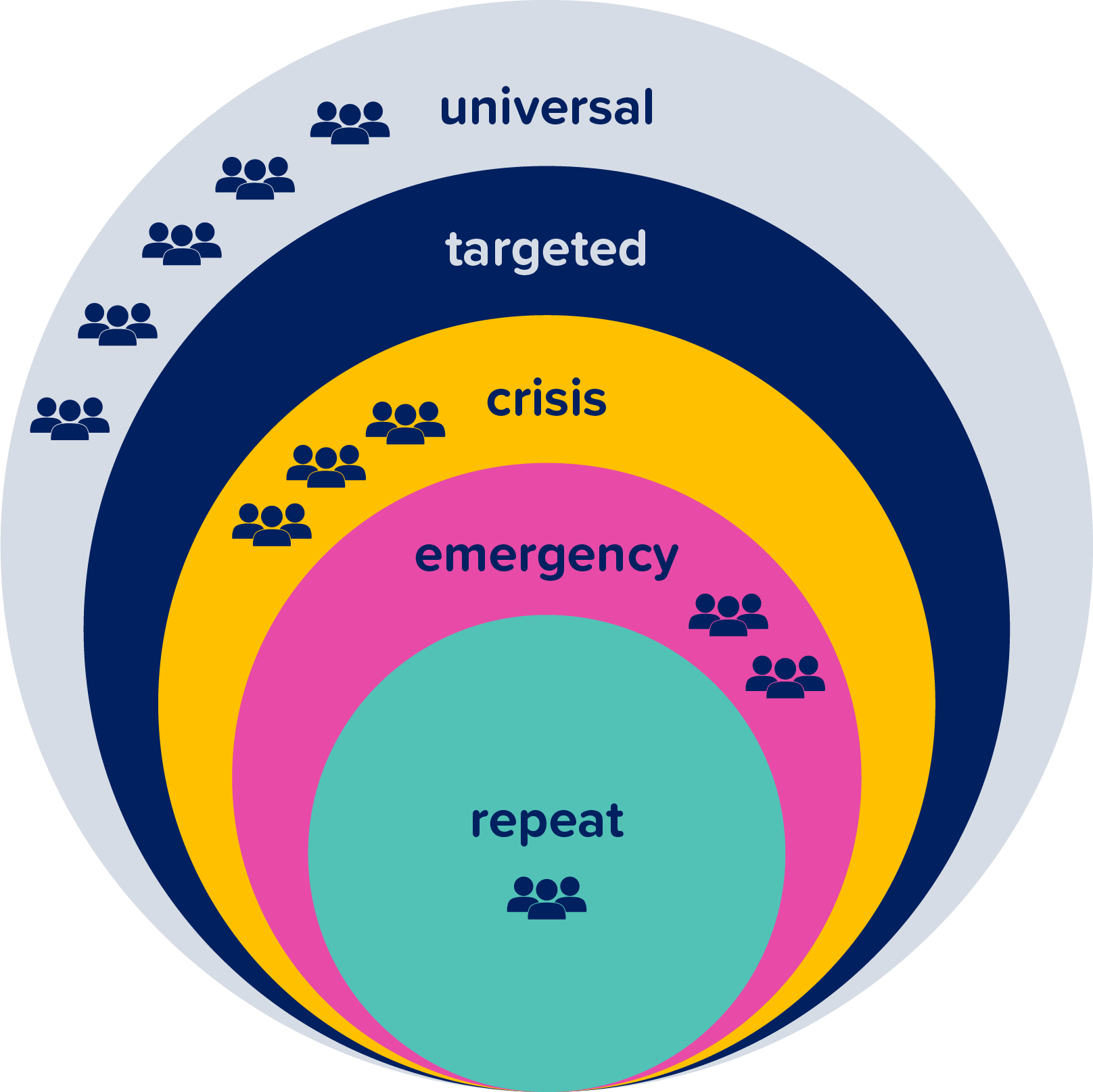 2. Help the transition to rapid rehousing
What this means
A major transition to a 'Rapid Rehousing' response to homelessness is taking place across Scotland. This means an ordinary home in an ordinary community for most of us, reducing the time spent in temporary accommodation and improving standards. And it also means increasing access to housing support, including Housing First to redress the most severe forms of disadvantage.
What we are doing
Working in a strategic partnership with Scottish Government, the Scottish Federation of Housing Associations (SFHA) and through the Everyone Home collective.
Delivering Housing First Scotland which provides support and advice to national and local partners scaling up Housing First in 3 ways: Housing First Connect, Know-How and Check-Up.
Contributing to the Rapid Rehousing Transition Plans sub-group of the Scottish Government's Homelessness Prevention & Strategy Group.
Co-chairing the supported accommodation task-and-finish group appointed by the Scottish Government's Homelessness Prevention & Strategy Group.
3. End rough sleeping and destitution
What this means
Most people affected by homelessness in Scotland are not rough sleeping. But for those who experience it, rough sleeping is the very sharpest end of homelessness needing the most urgent responses. As a result of UK immigration policy including Brexit, there are also increasing numbers of people seeking sanctuary or to settle in Scotland who are at risk of destitution and rough sleeping.
What we are doing
Working in a strategic partnership with Scottish Government and COSLA to deliver the Ending Destitution Together strategy.
Convening and supporting the development of Fair Way Scotland, a 'learn while doing' partnership to influence policy and practice while preventing rough sleeping and destitution.
Raising awareness of the causes and consequences of rough sleeping and destitution through training, events and facilitated conversations to help each other recognise and challenge prejudice and stigma.
Supporting cash-first approaches and calling for the national plan to end the need for foodbanks to umbrella all homelessness initiatives so that standards can be consistently raised.
4. Provide a platform for lived experience
What this means
People who have first-hand experience of homelessness already have a voice. But often lack the platform to raise issues or shape solutions directly with the people that plan and provide housing and support services. We are committed to providing a supported platform for people who want to get involved in different ways.
What we are doing
Facilitating 'All in For Change' which is an inclusive structure that enables people with lived experience of homelessness and policy and practice colleagues to connect in an informed but informal way.
Supporting a Change Team of people with experience of homelessness, each of whom connect across their wider personal and professional networks to share and shape ideas and developments.
Connecting with other local authorities and partners to increase the profile and influence of people with lived experience of homelessness in local planning, commissioning and service delivery.